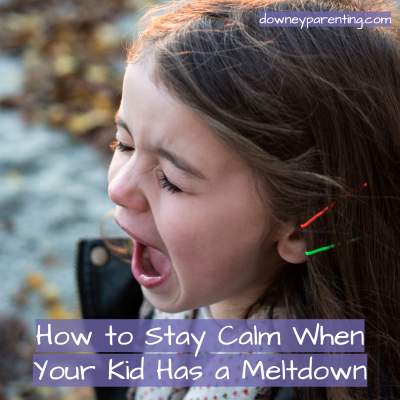 How do you handle a crisis? Do you freeze, run away or fight? Or do you stay calm, listen and offer support?
Throughout the day, we are faced with dilemmas or problems. Typically they are small problems but some are bigger than others. And every person interprets the dilemma differently.
Our kids have dilemmas too. And because they don't have the same life experiences we have, their smaller problems feel bigger, or more urgent to them.
With each dilemma we have a choice on how we react or respond. We can join the chaos or remain calm.
Joining the Chaos
Imagine being in a true emergency and you need help. Frantic, you call someone. While you are hysterical, trying to ask for help, they match your hysteria. They are shrieking over you and you can no longer tell them what is wrong.
Now, imagine being in a true emergency and calling someone else for help. This time, while you are hysterical, trying to ask for help, you hear the other person take a calm breath. They allow you to shriek and explain your concerns without yelling over you. They repeat what they hear, offer support and ask how they can help.
Who would you rather have in your time of need? The friend that joined the chaos or the friend that remained calm?
A Child's Chaos
Of course, the dilemmas our children have are usually not emergencies. But, with their limited experiences, they feel like emergencies to them.
If your child is having a difficult time transitioning to bedtime and in the process is yelling about not wanting to go to sleep, how do you help your child? Are you the person in the first scenario, yelling and threatening them if they don't go to sleep (aka-joining the chaos) OR are you the person in the second scenario providing empathy, support and possibly a hug?
Maybe, at times, you join the chaos but want to learn ways to decrease the battle and bring calm to the situation, but aren't sure where to begin.
How to Stay Calm
Practicing prevention techniques to stay calm can help minimize the intensity and length of a tantrum. The following tools may feel like more work (energy) for you, the parent, but doing so will reduce the frequency, intensity and length of meltdowns and therefore less work (energy) for you in the future.
You have the capacity to stay calm, however, there are certain things we can do, proactively, to increase our ability to remain calm in some of our hardest parenting moments.
1. Self-Care
This is a preventative strategy. That means it's important to be mindful of our self-care when things are going well so that we can continue the habit when things aren't going well. Check out some small things you can start implementing now for self-care here.
Take a moment to reflect on how you're getting your needs meet and make a list on what you can do for yourself today.
2. Quality time-in
Another preventative measure is setting aside quality time-in with your children. Quality time-in has nothing to do with quantity. Since the 1950's, the amount of time parents are spending with their children has increased. According to a study in 2016 by Giulia M. Dotti Sani and Judith Treas, American parents are spending an hour more a week with their children than the '50's housewife.
Although it's important to spend time with our children, it's more important to acknowledge if the time being spent is quality time-in. Quality time-in does not include the time you are near your child while scrolling your phone or answering work emails. It is not when you are rushing to get dinner on the table while hastily answering homework questions.
Quality time-in is the moment you give your child undivided attention. It is when you are laying beside them in bed and snuggling with a bed time story. It's when you schedule 5 or 10 minutes of your day to allow them to direct your play, together, with no distractions. Setting aside 5 to 10 minutes a day to be present for quality time-in can make a significant impact on future interactions with your child.
3. 10-Second Pause
This tool is best used first in a "crisis," barring there are no true emergencies (if your child is in imminent danger-about to touch a hot stove, run into traffic, etc., act immediately).
The first indication you have of your child being dysregulated, pause. Take a moment to reflect before responding. Count to 10 in your head. Take this time to take a deep breath (or a couple, if needed).
If your child is talking while you take this pause, LISTEN. Do not talk, do not argue. Listen to what they are trying to tell you.
4. Validate and ask for a connection
Validation means to let your child know you hear what they are saying. You can summarize (It sounds like you are trying to tell me…) or you can acknowledge what they might be feeling (It seems you feel…).
Offer a nurturing touch (hug, pat on back, snuggle, rock, calmly hold hand or rest on leg). Position yourself at their level (kneel, sit down).
And then (in your calmest voice) ask for a minute, "It seems you're really upset. I need a minute to think about this." While you reflect in your head, still offer the connection, if they're open to this. If they're not open to a connection, offer to sit near them to be with them.
Take a deep breath (or a couple, if needed). Remind yourself this is NOT an emergency.
Do a quick assessment of your child's needs. (Remember HALT: are they Hungry, Angry, Lonely, Tired?)
Check your expectations. (Is the meltdown a result of an unrealistic expectation you have? Are you trying to control a situation? Is the meltdown developmentally appropriate for your child's current development?)
Next Steps
Depending on the nature of the meltdown, there are several options of what to do next, but that's something to focus on another time. Right now, focus your energy on prevention and trying to remain calm amidst your child's chaos.
Practicing
There will be times when you inadvertently join in the chaos. Be gentle on yourself, we are not always at our best, and it's okay we make mistakes. In fact, we learn the most from our mistakes. So when you falter, practice making amends and reflecting on how you can handle it differently in the future.
Success occurs when we give ourselves permission to make mistakes and when we proactively work to make change. If you're ready to start making changes but need some guidance or accountability, parent coaching can help.