Have you ever tried to remain calm while hungry or tired? Or attempt to enforce a limit (sorry kids, no ice cream tonight) after a long, stressful day at work?
It probably didn't end well.
This is because you're lower level basic needs weren't met.
And if you don't have the necessary amount of "fuel," it's hard to be your best self.
Maslow's Hierarchy of Needs
In 1943, Abraham Maslow created the "hierarchy of needs."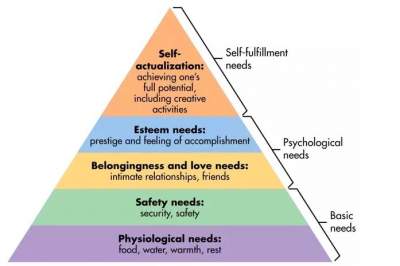 Maslow suggested that basic needs at the bottom of the pyramid must be met in order to work on higher needs like the fulfillment of one's potential.

www.simplypsychology.org/maslow.html
According to Maslow, we must attend to our nutrition, sleep, and safety needs in order to have fulfilling relationships, to feel accomplished and to achieve our full potential.
Some might call this the importance of "filling your cup," or self-care. The more we take care of ourselves, the fuller we feel and the higher we can move up our pyramid of needs.
Parenting Hierarchy of Needs
I believe a similar hierarchy of needs exists in parenting. In initial sessions with parents, I focus on a modified version of Maslow's hierarchy that I have created over the years.
When discussing parenting struggles, it is common to hear:
concern about a child's specific behavior and uncertainty in how to address it
frustration that a child is not listening
overwhelm with tantrums or aggressive behaviors
frustration with a lot of power struggles (with eating, bedtime, homework, or other times of the day)
These are all valid and common frustrations. Typically parents are seeking peace and calm. And most are looking for a quick solution to these behaviors.
However, in order to focus on finding peace and calm at home or helpful discipline strategies, we must first focus on you, the parent.
Investing time in your self-care needs will enable you to achieve higher parenting needs and goals.
Basic Self Care
This is the most important part of the pyramid. It's the base for a reason. We need a solid foundation to build upon. These basic needs focus on your physical and environmental self-care needs.
Are you:
getting your recommended amount of sleep? (parents with newborns, this does NOT include you!)
living in a safe, healthy home?
drinking 1/2 of your body weight in water?
focusing on eating healthy, nutritious foods?
Are there any changes or additions you can make to your basic self-care needs today that will help strengthen your parenting pyramid?
Nurturing Self Care
Once you feel your basic needs are being met, think about your spiritual needs, or what I consider "nurturing self-care" needs. This can include:
meditation
mindfulness
yoga
physically moving your body at least 30 minutes a day
Healthy Relationships
It's true it takes a village to raise a child. We need support. However, do the people you interact with the most refuel you or drain you? In this level of the pyramid I encourage you to focus your energy on building healthy relationships. Now is the time to reach out to those that refuel you and create boundaries with those that drain you.
For some, creating boundaries can be difficult. Sometimes our extended family or loved ones can be draining for us. If you find yourself struggling to create a healthy boundary, I recommend Boundaries by Henry Cloud (affiliate link) or seeking out a therapist or parent coach for help with setting boundaries.
Mental Well-Being and Healthy Expression of Feelings
Mental well-being is taking the time to focus on your mental health. This may be through self-talk, mind-fullness or therapy.
If you find yourself struggling with anxiety, depression or other mental health concerns that feel debilitating or are significantly impacting your daily life, I recommend seeking the support of a mental health therapist.
In addition to your mental well-being, you need to express emotions in a healthy way. All feelings are meant to be felt and all emotions are acceptable. It's the behavior behind the emotion (the expression) that matters most.
This is when the solid foundation (basic self-care and nurturing self-care) are so important. We can choose to remain calm when we are expressing our anger and it's easier to make this choice when we have a solid pyramid foundation.
Positive Parenting and Discipline
You're at the top of the pyramid and at the top of your parenting. You are open to alternative approaches and are able to focus on discipline and parenting in a calm, peaceful manner.
Until something new comes your way, because that's life. We are humans after all and we are not striving for perfection, we are all just working hard to do our best.
Regular Maintenance
When you build a house (or in this case, a pyramid) you start with a solid foundation. But you know that over time things will start to weaken and possibly get damaged. So you'll have to go back and repair.
You can't put a lot of work into your parenting pyramid and expect it to stay sturdy and solid.
It takes practice, patience, dedication and the ability to give yourself grace when things go awry. Although I encourage you to strive for the top of your pyramid, the goal is to be humble and acknowledge where you are struggling in your pyramid and work on repairs.