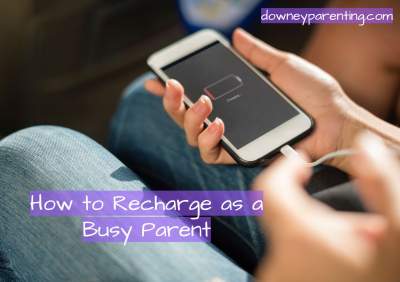 I have a charger for my phone in my car, my office, several in my home and sometimes I keep a back up in my purse. Although the battery sometimes gets 'critically low', I am mindful to recharge it (even as a busy parent).
Sometimes I'm shocked at how quickly my phone can drain, even when I'm not using it. And I've learned that some apps deplete more battery life than others. Regardless, I keep my attention on that little battery in the corner and ensure my phone has the energy it needs to keep going. And when it's really low, those fast charging cables are a life saver!
Your Parenting "Batteries"
Just like a cell phone, we have a "battery" too that needs constant recharging.
Parenting is draining. There's no doubt these last few months have depleted parents even more. And similar to apps on a cell phone, certain situations deplete our battery. Or sitting idle can cause us to feel drained as well.
When was the last time you checked your battery level and recharged?
Check your Battery Level
How much charge (energy) do you have right now? Do you feel fully charged (100%) or completely drained (less than 10%)?
Maybe you're reading this after ushering your toddler back to bed (for the sixth time!) after a day of endless work meetings, a longer than normal commute due to traffic, and a battle with your other child about homework.
Or maybe you're reading this after a full nights rest and a warm cup of coffee.
Just like your cell phone, your own battery level fluctuates throughout the day.
And just like your cell phone, you have the ability to have a charger in the car, your office, several throughout the house and even a back up in your purse.
Charging Your Battery, AKA Self-Care
Depending on your current charge level, you might need a small, quick charge or a longer charge. But sometimes this feels unrealistic and with your busy life you're are looking for one of those handy fast charging cables.
Charging your battery (or self-care) is not one big event. In fact, it can be several smaller events throughout your day. It does not need to be difficult to recharge as a busy parent.
Fast Charges: Self-care for Busy Parents
Take 3 deep cleansing breaths.
Close your eyes and visualize a calm, happy place.
Take a moment and watch the clouds float by.
Study the details of your child's face.
Sip some hot coffee or tea. Take a moment to feel the warmth of your cup in your hands and enjoy the taste.
Light a candle.
Smile. Hold it for at least 10 seconds.
Massage the arches of your feet, the palms of your hands or your neck.
Write down three things you are grateful for.
Color, doodle, or do something creative.
Roll your shoulders forward, up and back
Turn on some music. If possible, take a moment to dance around or sing along.
Give yourself or someone near you a hug.
Take a few moments and stretch. Reach up high and stand tall.
Rub a nice smelling lotion into your hands. Give yourself a massage and take a moment to enjoy the fragrance.
Find a sunny spot and stand there for a moment.
Study the details of a tree or other plant nearby.
Wash your face
Say "no" to someone
Write down your to do list and add something you want to do
Be Prepared
Go through this list and star your favorites. Add those not listed.
Write a few down on post it notes and leave them by your phone chargers or anywhere else throughout the house, work or car where you will notice them.
Try to do at least 5 fast charges in a day, especially at times your battery level is running critically low. It's important to recharge, even as a busy parent.
Don't let your self-care get critically low, you deserve the recharge.