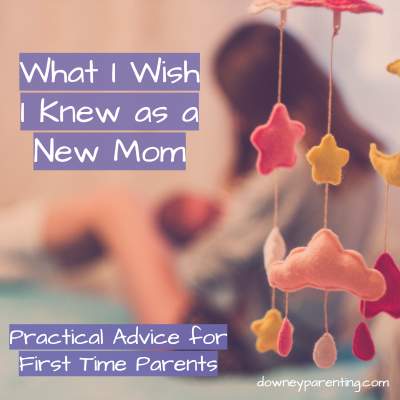 1. There's no such thing as nap when the baby naps.
This was something that was reiterated to me over and over. Pre-baby this was the biggest piece of advice I heard. I knew that as a new mom I would be tired and so I held on to this advice truly believing that it would solve all of my sleep woes.
It didn't. In fact, this was the worst piece of advice for me. Now, I get that everyone was well meaning and had good intentions. But during the day, it was impossible for my brain to slow down and allow me to sleep while the baby slept.
For some, this works. Awesome! I'm glad that some parents are able to nap when the baby naps. But this does not work for everyone.
Instead, when I inevitably couldn't sleep when the baby was napping I would feel guilty and frustrated with myself for not sleeping. Gee, how unhelpful! A few weeks into being a new mom, I ditched this "suggestion" and made a mental note to not pass it on to other parents.
Instead, I focused on small self-care pick me-ups during nap time (more on this later!)
2. Becoming a New Mom is a FFT
I had never heard of the philosophy of First Freaking Time (FFT) until I heard Brene Brown talk about it. An FFT is a moment in time that is your very first (kind of like this pandemic we all have been experiencing). And most times it's overwhelming and downright hard.
Although I knew that I would be navigating a "new normal," having the construct FFT for difficult times has been empowering. It allows me to give myself more grace. Of course being a new mom is hard, it's a FFT. And with babies, change is happening rapidly so as soon as you adjust to your new normal, a new change occurs. So instead of viewing motherhood as one FFT, view each change in your baby's routine, development or your schedule as an FFT.
3. The "After Baby Shower" is more important than your baby shower.
Of course it is nice to be "showered" with love and attention prior to the baby arriving. There's comfort in bringing friends and family together to celebrate the upcoming arrival of a baby. But if I had to do it over again, I'd ask for it AFTER the baby was born. (Plus I didn't need the majority of the gifts).
What I did need was support in the weeks after delivery. When friends or family ask if you need anything, say yes. Be honest and concrete with your needs. Dinner that you don't have to cook (or think about ordering) was one of my favorite "after baby shower" gifts.
4. Learn to tune out other people's parenting suggestions.
Most people mean well when they offer unsolicited parenting advice or suggestions. And when you become a first time parent, the suggestions come flying in.
Pre-baby, write down your values and goals for parenting. After baby, review and adjust your goals. Be open to change (this is your first time being a new mom, it's not typically what you expected!) and be flexible. You may have to adapt your goals. You can remain true to your values while adjusting your expectations.
If I had listened to other people's well-meaning "advice" or "support" I would not have breastfed my child over a year. When things got hard the first few weeks of breastfeeding (oh hey nursing strike…) I was encouraged to give up and told breastfeeding wasn't for everyone. Thankfully, some encouraged me to keep going (and boy am I glad I did) and gave me more practical support. Whenever faced with an opposing parenting opinion or "advice" I acknowledge the information and then consult back to my values.
5. Your main priority is to keep the baby alive…let go of the rest.
Ignore the social media posts from other new moms sipping their warm coffee while they hold their smiling baby in an immaculate home with their hair perfectly coiffed. Because what isn't pictured is the projectile spit up or diaper blow out that potentially happened just moments before.
Your infant does not need you to have the picture perfect social media posts. Your infant needs you to tend to his basic needs. That is your main priority. The rest will be there for another time, let go of it while you focus on adjusting to your new normal.
6. Practice making self-care a priority BEFORE baby arrives
It can take months to form a habit. Before the baby arrives be mindful of your self-care routine. Find ways to incorporate self-care throughout your day. Try to focus on small, rewarding things that can continue after baby arrives.
If your unable to rest while baby naps during the day, take advantage of the moment to:
meditate
do 5-10 minutes of yoga
take a warm shower or bath
roll your shoulders up, back, down, and forward
enjoy a warm cup of coffee, tea or hot chocolate
Remember, you have to make yourself a priority so that you can continue to take care of your baby. Reach out to your support network and community. Asking for help is a sign of strength.