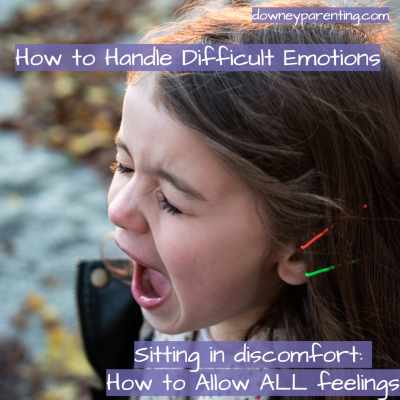 How do you feel when your child hits, kicks, cries, whines or yells? They are expressing difficult emotions. It makes sense to want to stop the behavior, but what are we accomplishing in the process? Of course we want the annoying behavior to end but in doing so we send a concerning message: "I'm not okay with your uncomfortable feeling."
Managing your uncomfortable feelings
Anger. Anxiety. Jealousy. Sadness. Depression. Shame. Loneliness.
These are some of the uncomfortable feelings we might experience.
In fact, they are so uncomfortable that sometimes we try to suppress them. That's right, we avoid them, or at least we try. Until they bubble up to the surface at random times and wreak havoc on our day.
Or we express them. Sometimes this can be a healthy release, but often, expression of uncomfortable feelings is a reaction. It might be yelling, screaming or crying. Or, it might be avoiding a situation or snapping at someone.
"There is a world of difference between speaking the brutal truth and speaking the truth brutally."

-Kim John Payne, "Being at your best when your kids are at their worst."
You might feel good in the moment, but typically it does not help anyone else around you.
Experience and Let go
If we can learn to express our feelings in a healthy way we allow ourselves to experience them. And then we have to let go.
That's right. If we are mad, we need to acknowledge the anger and then move on. It might help to:
Re-frame your negative thoughts. Create a positive affirmation for yourself to say in times of stress or anger. Instead of thinking "My child is such a snot" when he throws something say "I'm grateful he's trying to express himself and I can help him learn."
Give yourself space. Literally distance yourself from the person (or child) that is triggering you. Say "I need a minute" and then go where you can be alone for a moment (if you need to, lock yourself in the bathroom). *Depending on the age of the child, a few minutes away is okay. If your child is too young or this is unsafe to do, see if you can call a support person to get a break.
Practice mindfulness.
Be gentle on yourself. When feeling a difficult emotion, does your inner critic ramp up? If you find yourself being very critical of yourself it's time to give yourself some compassion. What would you tell a friend to do in this situation? And then do that for yourself.
Seek outside professional support with a therapist or parent coach.
Allowing Uncomfortable Feelings
When your child is showing an uncomfortable feeling, take a deep breath and try responding calmly. For example: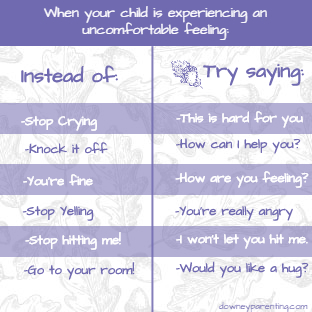 Practice Compassion
It is important to be kind and compassionate to not only your child when they are experiencing a difficult feeling, but also to yourself.
If you find yourself triggered (or feeling unable to handle) difficult emotions, you're not alone.
We are constantly inundated with messages about being "right" or "wrong" with how we feel, either subtly or blatantly. Remember, all feelings are acceptable and your behavior (associated with that feeling) needs to be respectful and kind.
The goal is not to be perfect. It's okay when we don't handle a situation "perfectly." The goal is to be more aware.
Are you allowing your children the opportunity to experience difficult emotions?
Ultimately, the goal is to make sure your child knows with ANY emotion, "I'm here for you."