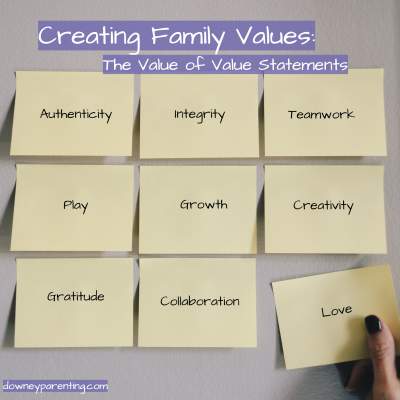 When starting at a new company, they present you with the mission, vision and values of the company. The purpose is to give a full picture of the expectations and culture of the organization.
Doing so lets you, the employee, (and the consumer) know what is important to the business.
Value statements aren't intended just for large corporations. In fact, small business can benefit from value statements.
And in many ways, your family is a small business.
The Business of Families
In a family there is work that has to be done or matters that have to be attended to, which is the definition of business.
In some households there are rules, dress codes, chores, and bedtimes (aka policy and procedure manuals and hours of operation). And typically there is a common goal of being successful.
To be successful, everyone must understand (and buy into) the mission, vision and values of the household.
Value Statements
Value statements show you what a company believes in.
For example, a company may value:
Integrity
Authenticity
Vulnerability
Trust
Innovation
Quality
Teamwork
Respect
Empathy
Responsibility
Collaboration
The company uses their values as a guide for employees. They set the framework for the culture of an organization.
When well-written, reinforced and properly displayed, value statements can enhance cohesion and teamwork within an organization.
The same is true for family values.
When created together, well-written, reinforced and properly displayed, family values enhance the cohesion within the household.
Creating Values as a Family
Regardless of the ages of your children, it's important to include the whole family in deciding the values. Choose some from the list above, add some of your own, or do a search of family values to find others to add to your list.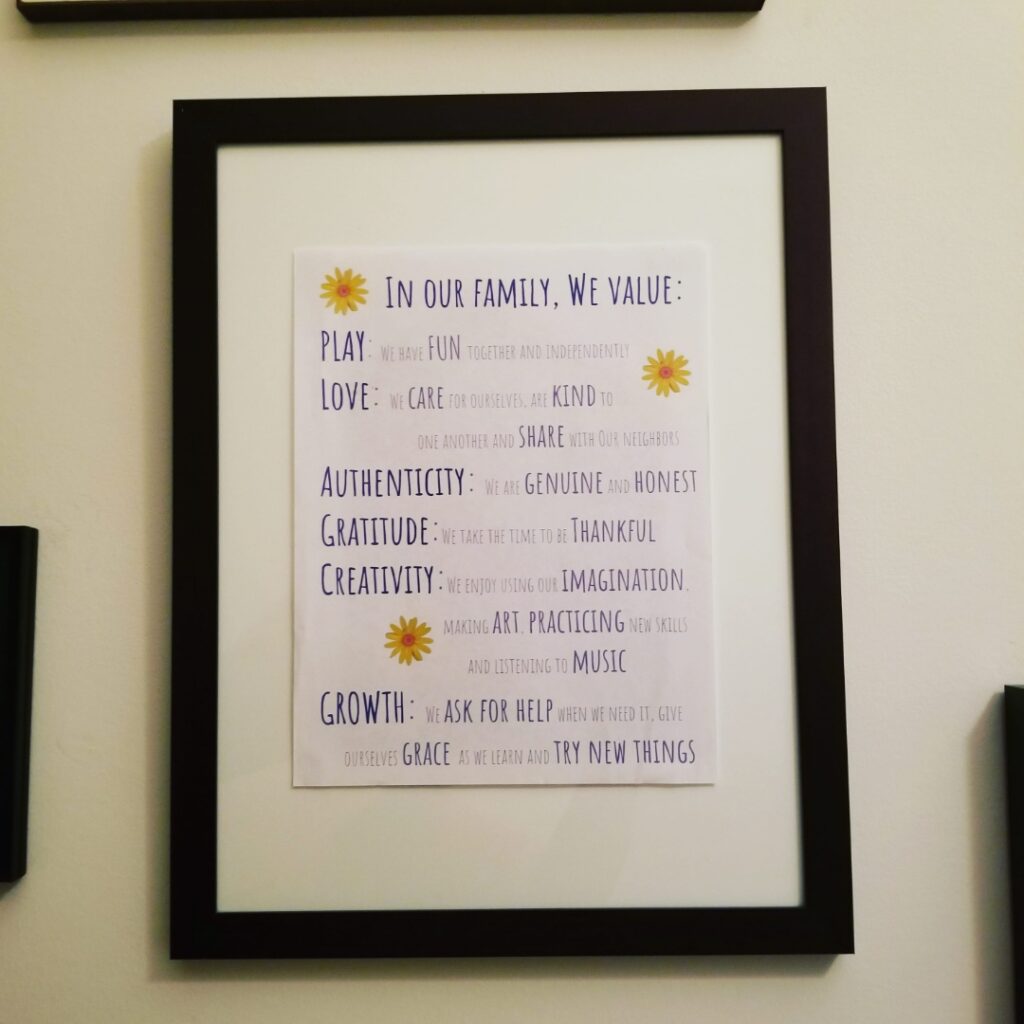 Compare lists and decide, as a family, on your top values. It's best to keep the list small (but mighty). You want to be able to remember your values because you will want to refer to them often.
Find a way to display them in a prominent area where your family will easily see them.
Take time to review your values annually. As your family grows and evolves, allow your family values to grow and evolve too.
Eliminating "Because I Said SO!"
It's common for children (or other family members) to question our motives or give us some push back.
When making decisions, refer back to your family values.
If you're trying to guide someone in the household to accomplish a needed task, refer back to your values.
When struggling within the family, refer back to your family values.
If you find yourself repeating the same thing over and over or have started to utilize "Because I said so!" it's time to re-evaluate your family values.
For example:
| You ask/request: | When asked "WHY?!" Respond with: |
| --- | --- |
| Please help set the table. | We value cooperation in our family. |
| Clean the clothes off the floor in your room. | We value a clean home. |
| It's time for me to get some work done and you can play. | We value independent play time. |
What values are important to your family?